Compactor Systems
SPD Solutions, Inc. manufactures commercial compactors, designed for use at the point of waste generation. With hundreds of systems delivered, this equipment is low maintenance and high performance proven.
Solid waste compactors and recycling balers, including a combination of both are available. The SPD Solutions, Inc. systems substantially reduce the volume of solid waste, prior to being transported, in order to save labor and space. The modular compactors provide for a comprehensive facility waste management system. The strength and durability of SPD Solutions, Inc. products is without peer.
Installations require only a standard 120 volt electrical receptacle. Join the many healthcare, retail, educational and hospitality organizations relying on SPD Solutions, Inc. products.
General Waste and Medical Waste Compactor Applications
Reduce waste volume at point of generation by an average ratio of 3:1.
Reduce labor costs associated with waste handling FTE commitments.
Reduce the number and size of containers necessary to manage waste.
Reduce space requirements for waste collection and staging.
Reduce waste disposal surcharges levied on underweight containers.
Click to view: Compaction Ratios
SPD Solutions, Inc. models are available for safely compacting Regulated Medical Waste at the point of generation. Med-Pac and APC Products, Inc. Cart-Pack models are sealed units which incorporate a multiple stage, environmental conditioning system. The APC Products, Inc. Cart-Pack line of direct to cart compactors feature our standard and medical models for use with popular 96 gallon reusable cart systems. All models are completely self contained and operate on standard 120 volt electrical receptacles. Compact design allows maximum flexibility and simplicity of installation.
Contact us to discuss your specific requirements and learn more about our innovative products.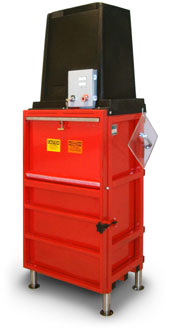 SPD Solutions, Inc. 2000 Series
Medical Waste Compactor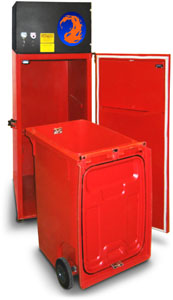 Cart-Pack Medical Waste
Volume Reduction System