Incinerators
STANDARD LOADING CHART - 8 HOUR PER DAY SYSTEMS
CAPACITY IN POUNDS PER HOUR

0

75

130

250

435

625

470

850

1230

1700

2200

1

95

170

320

560

800

600

110

1600

2100

2800

2

85

200

360

560

800

680

1050

1420

1960

2600

3

60

145

290

450

645

520

815

1110

1520

2100

4

60

85

175

290

450

350

600

825

1080

1600

5&6

Consult Factory
Notes:
Density of the mixture affects the burning rate of Type O and Type 1 waste.
Pathological (Type 4) waste requires "P" model option.
Rating on Model C-125 and larger is based on use of mechanical feeding device.
All ratings are based on eight (8) hour loading operation per twenty-four (24) hour period
Types of Waste
CONSUTECH® pathological units are capable of burning all types of waste.
0

TRASH, a mixture of highly combustible waste: paper, cardboard, cartons, wood boxes, and combustible floor sweepings, from commercial and industrial activities. Contains up to 10% by weight of plastic bags, coated paper, laminated paper, treated corrugated cardboard, oily rags and plastic or rubber scraps.

10%

5%

8500

8-10

1

RUBBISH, a mixture of combustible waste: paper, cardboard cartons, wood scrap, foliage and combustible floor sweepings, from domestic, commercial and industrial activities. Contains up to 20% by weight of restaurant or cafeteria waste, but little or no treated papers, plastic or rubber wastes.

25%

10%

6500

8-10

2

REFUSE, consisting of an approximately even mixture of rubbish and garbage by weight, common to apartment and residential occupancy.

50%

7%

4300

15-20

3

GARBAGE, consisting of animal and vegetable wastes from restaurants, cafeterias, hotels, hospitals, markets, and like institutions.

70%

5%

2500

30-35

4

PATHOLOGICAL HUMAN AND ANIMAL REMAINS, consisting of carcasses, organs and solid organic wastes from hospitals, laboratories, abattoirs, animal pounds, etc.

85%

5%

100

45-55

5

BY-PRODUCT WASTE/GASEOUS, LIQUID OR SEMI-LIQUID, such as tar, paints, sludge, fumes, etc., from industrial operations.

Variable

Survey Required

6

SOLID BY-PRODUCT WASTE, such as rubber, plastics, wood waste, etc., from industrial operations.

Variable

Survey Required
Contact us to discuss your specific requirements and learn more about our innovative products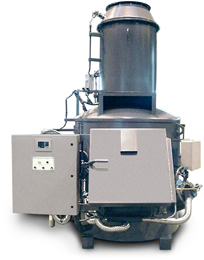 Consutech C-32P Series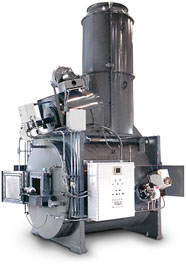 Consutech C-125P Series