Pet and Animal Crematories
Cremation has increasingly become an option of choice among pet and animal owners. This particular means of service is being driven by several considerations which include burial restrictions and a reluctance to leave behind cherished, interred pets in our transient society.
Consutech Systems, LLC manufactures animal cremation technology that has been employed in the veterinary and similar industries since 1968. This company has delivered over 5,000 systems worldwide during such time. Their proven technology has established a reputation for simplicity, performance, and durability.
The Consutech systems offered by APC Products, Inc. are available for both small and large animal applications.
Our versatile equipment can satisfy a variety of needs including:
Small Animal
Large Animal
Pet Memorial
Pet Cremation
Agricultural Applications
Veterinary Practices
Research Institutions
Municipal Agencies
Click to view: Standard Loading Chart or Types of Waste
Consutech modular cremation units are available for gas or oil operation. Solid hearth design permits segregation and reclamation of cremation remains. Extended life expectancy is the hallmark of Consutech equipment. A full line of models are available, with optional mechanical loading devices, to meet specific needs.
Contact us to discuss your specific requirements and learn more about our innovative pet crematory products.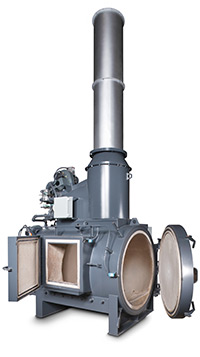 Consutech C-75P Series